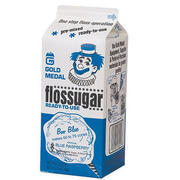 Cotton Candy Floss - Boo Blue - Blue Raspberry
Dakota Inflatable's Cotton Candy Is A Great Addition To Any Party!
Boo Blue is the 2nd most popular flavor of Cotton Candy. One Quart provides 60-70 servings depending on how big you make the servings. Don't forget to order your cotton candy bags or cones.