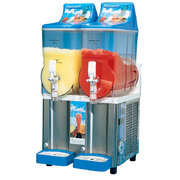 Frozen Drink Machine
Enjoy a cool drink on a hot day with this frozen drink machine. Call today for our list of flavors.
EACH HOPPER WILL HOLD 2 1/2 GALLONS OF SLUSH. YOU MUST PURCHASE THE MIX FROM US AS IT HAS A VERY SENSITIVE FREEZING POINT AND HAS TO HAVE THE CORRECT MIXTURE IN ORDER FOR THE MACHINE TO WORK PROPERLY.