Gelly Ball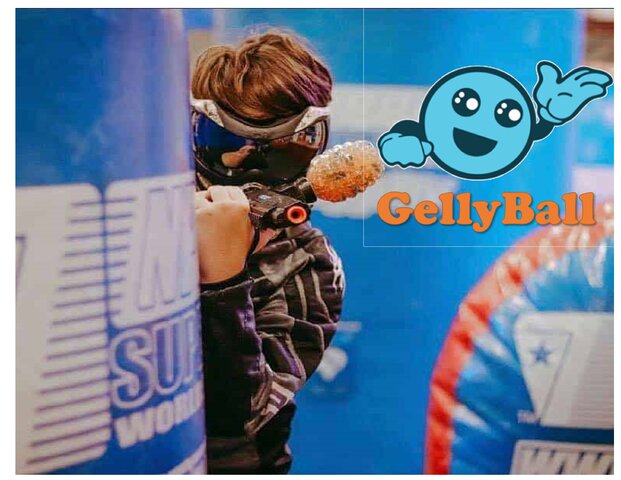 Monitors: 1
Age Group: 5 and up
Description
What is Gelly Ball ?

Gelly Ball bridges the gap between PAINTBALL and AIRSOFT with new cutting edge super soft GELLY BALL technology. The gelly balls are super soft water orbs that make it FUN and SAFE for all ages! Our Gelly Ball Blasters use a soft gel ball, much like Orbeez that your kids probably already play with! Shot from the easy-to-use Blasters , the soft Gelly Balls bounce off – leaving no stain, mess, or sting. Unlike Nerf guns, where the players have to constantly reload with ammo off the floor, a Gelly Ball Blaster holds 750 shots without reloading! Just pull the trigger and they shoot! Easy even for four-year-old kids to use.
Games are fast and furious with players ducking for cover while finding the best angle to blast their opponent with our non-toxic, no mess, no stain Gelly Balls.
Our Gelly Ball program comes with inflatable bunkers and protective Head Gear (must be worn). No dirt, no mud, and no paintball residue to find its way back into your car for the trip home. As an outdoor experience will be one of the cleanest and mess-free that you will ever experience. For indoor partys Gelly Balls just dry up and can be swept away very earily.We accept all players from ages 4 to 100.Let Dakota Entertainment make your party AWESOME with the latest Soft Impact gear for you and your friends. Great for after proms, birthday parties, outdoor events, church parties, for team building, bachelor parties, schools, and so much more!
The Games
Our GellyBall parties bring tactical and free-for-all games to life. The games are designed for quick and easy play, keeping the entire experience fun, fresh and exciting. Here are a few examples of the game types you might experience:
Last Team Standing - Like Fortnite!
Players are split in to Teams
Players work together to eliminate the other teams
OBJECTIVE: Eliminate the Opposition
Protect The Splat King
Each Team Selects a Splat King
The Splat King is led across the field to the other side without being hit
Uses Both Offensive and Defensive Tactics
OBJECTIVE: Eliminate Opponents Splat King
Capture the Flag
Each GellyBall team sets up on their respective side.
If you are hit in transfer, the flag is returned to the center by the ref and you are out.
Game continues until one team wins.
OBJECTIVE: Get to the flag in the center and get it to your team's starting point – without being hit
* Note: You can create your own game and rules.