Karaoke Rental Unit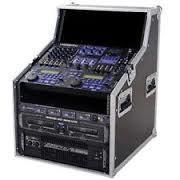 Description
Karaoke System Rental & Delivery

Call Our Office For Pricing & Availability - 605-331-1404
You can have a karaoke party anytime almost anywhere. When you rent our karaoke system we show you how to setup and operate it before you leave our shop. Don't want to set it up yourself -- we can deliver, set up and pick it up in the Sioux Falls Area for a minimal charge.
Our karaoke systems are portable, but they are complete and produce great sound. And they are easy to use.
The karaoke rental package consists of:
· An Easy to use CAVS Karaoke system on which karaoke application and songs are installed
· a mixer (Numark or American DJ)
· 2 powered speakers (EV SxA100+ with a speaker stands
· 2 wired microphones
· a connection cable to your music source (iPod, notebook computer, etc.) with which you can play your favorite music while you are not doing karaoke.
You can connect your TV, monitor or projector for the singers and audience.
Optionally you can add more wired microphones, wireless microphones and microphone stands. A manual karaoke CDG player is also available.