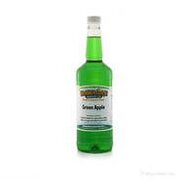 Shaved Ice Flavor Green Apple - 32oz
Shaved Ice Syrup - Green Apple 32 oz.
Our Hawaiian Shaved Ice quart size syrup for snow cones is perfect for adding some delicious summertime fun. There's no need to wait for the ice cream truck or spend money at overprice concession stands when you have your favorite quart of shaved ice syrup. Inexpensive and easy to make, snow cones using our ready to use, quart size shaved ice syrup are refreshing, flavorful and a great treat to enjoy at the pool, beach or a park outing.