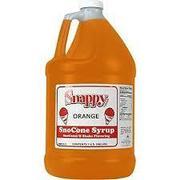 Shaved Ice Flavoring - Orange 1 Gallon
Dakota Inflatable's Shave Ice Snow Cone Is A Great Addition To Any Party!
Orange is the 3rd most popular flavor for Shaved Ice or Snow Cones. One Gallon provides over 128 servings at 1oz per serving. However, servings might take up to 2-3oz depending on who is doing the serving. Don't forget to order your Shaved Ice Cups.